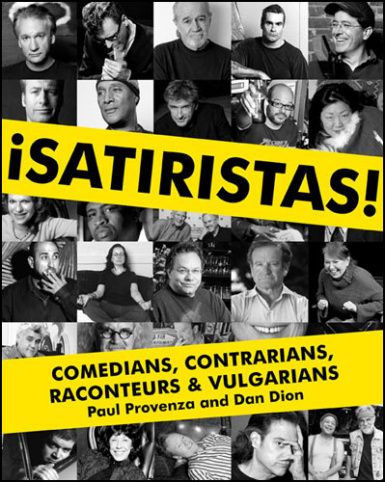 About SATIRISTAS
¡SATIRISTAS! is a collaboration between Paul Provenza and Dan Dion.
Bill Maher. Stephen Colbert. Lewis Black. Billy Connolly. Patton Oswalt. Robin Williams. George F-ing Carlin… and many, many more.
They are all !SATIRISTAS! -- a cadre of independent comic provocateurs and proud voices targeting political hypocrisy, media distortion, complacency and the institutionalized ignorance infecting American culture.
In ¡SATIRISTAS!: Comedians, Contrarians, Raconteurs & Vulgarians (It Books, a division of Harper Collins. Hardcover), through candid interviews and intimate art portraits, stand-up comedy veteran and filmmaker Paul Provenza and comedy's most celebrated photographer Dan Dion shine a spotlight on some of the most interesting comic artists who influence and critique -- both subtly and not-so subtly -- American culture.
They probe the minds of some of the most unflinching satirical voices heard today, like Bill Maher, Stephen Colbert and Lewis Black. They query ubiquitous late night commentators Conan O'Brien, Jay Leno and Craig Ferguson.
Veteran greats Randy Newman, Lily Tomlin and Cheech & Chong speak their minds alongside legends like The Smothers Brothers, Tom Lehrer, Paul Krassner and Monty Python's Terry Jones.
Household names Robin Williams, Roseanne Barr, Richard Lewis and Robert Klein speak alongside comic virtuosos Paul Mooney, Colin Quinn, Patrice O'Neal, Culture Clash, David Cross and Bob Odenkirk.
Comic film and television icons Mike Nichols, Judd Apatow, Roseanne Barr, and South Park creators Matt Stone & Trey Parker talk alongside cult favorites Kids in the Hall, Upright Citizens Brigade, Doug Stanhope, Sandra Bernhard, Dave Atell, Greg Giraldo and Margaret Cho.
Spoken word artists/punk icons Jello Biafra and Henry Rollins and provocateurs Penn Jillette and Janeane Garofalo speak alongside literary satirists Andy Borowitz, P.J. O'Rourke and writers from The Onion.
You'll discover new, up-and-coming comedians carrying the !Satiristas! torch as they make names for themselves as outspoken and controversial comedy stars of tomorrow. And along with many, many others -- in what came to be his final on-camera interview -- is the revolutionary, uncompromising George Carlin.
¡SATIRISTAS! is a funny and fearless celebration of provocative, unflinching comedy-- and an extensive survey of the modern art of satire and how it is crafted and cultivated by this elite community of contrarians, protesters, and troublemakers as America responds through equal parts laughter and outrage.
Speaking through the prism of comedy and the complex mechanisms involved in making all of America laugh about the truth as they each see it, !Satiristas! will simultaneously delight and outrage readers across the ideological spectrum.
Praise for ¡SATIRISTAS!
"If comedy is your idea of high art, ¡Satiristas! is the coffee table book for you." - LA Weekly
"A superb book." – The Serious Comedy Site
"¡Satiristas! reveals the method and the madness of men and women who inhabit the funny side of the commentariat." – LA Times
"¡Satiristas! has a lot to teach comedy fans about the history and structure of humor, and it offers illuminating glimpses into the inner lives of the people who make it." – The Onion, AV Club
"A must-read for any serious fans of smart comedy." – The No Fact Zone (Stephen Colbert Website)
"Deep thoughts on funny business." – Chicago Sun Times
"A passionate, insistent, and joyous case for comedy a serious art form." -The Boston Phoenix
"¡Satiristas!' steps in and shows us that comedy is an art that can be engagingly explored without ruining the joke." -Bookotron
"This is the textbook for advanced students of comedy, rendering a large chunk of a typical comedy nerd's library obsolete." – Third-Beat.com
"Provenza's contact list has so many headliners it comes with a two-drink minimum." – SF Weekly
"Finally, a book that gets right to the heart of comedians who choose to enter the unforgiving realm of the satirist." – Library Journal
"A wealth of intimate, and at times, surprising discussions." - Time Out Chicago
"For those of us who love comedy, it's fascinating." - KUSP Radio
----------------------------------------------------
Praise for the photography in ¡SATIRISTAS!
"Striking comedian portraits." - Boston Phoenix
"Wonderfully stark photographs." - Library Journal
"There are maybe five photographers worldwide who do what he does, and fewer still who don't do what he doesn't do." - SF Chronicle
"Visually scrumptious." – San Francisco Examiner
"The best images of these oft-photographed icons." - GQ
"A Dan Dion photograph is almost the same thing as listening to the comic." -The Serious Comedy Site
"Iconic photos." – Time Out New York
"Amazing comedian portraits." - SF Gate
"Stunning photos." - Third-Beat.com
"Dion is known as "comedy's Richard Avedon," because that's a pretty funny thing to say. Also, he's a fine photographer." - SF Weekly
About the Authors
PAUL PROVENZA is the director and co-creator of the critically acclaimed comedy/documentary feature, The Aristocrats. A thirty-year stand-up veteran, actor and writer, Paul has had recurring roles on countless TV series including The West Wing, and starred in CBS's Northern Exposure and in Steve Martin's play, Picasso at the Lapin Agile. Paul has written, produced, and starred in several comedy series and specials, including The Incredible Man-Boy for Showtime, and Comics Only on Comedy Central. He is a regular panelist on NPR's Wait, Wait… Don't Tell Me, and co-produces and hosts The Green Room with Paul Provenza, a new uncensored, spontaneous comedy series for Showtime.
DAN DION is the world's premier portrait photographer of comedians and comedic talent. As house photographer of San Francisco's Punch Line and Cobb's Comedy Club, and the legendary Fillmore Auditorium, he has access to the greatest touring performers of the day. Independently, he seeks out the reclusive and media-shy, gaining trust by virtue of his revealing and respectful style. Dan's photos have been published in Rolling Stone, Time, Spin, Playboy, Entertainment Weekly, People, Vibe, and over a hundred other publications, and his works have spawned worldwide solo exhibitions from New York to Montreal, Canada, Edinburgh, Scotland, and Sydney, Australia.