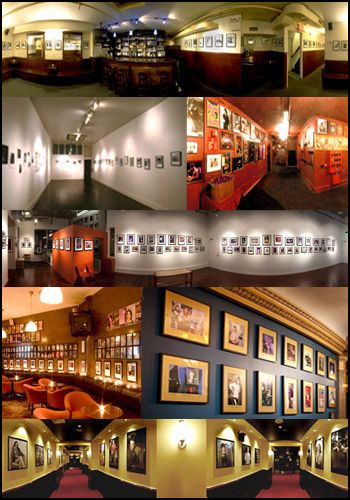 Exhibitions
ONGOING EXHIBITIONS
2017 - present Curious Comedy Theater
5225 NE MLK Blvd Portland, OR
Over 50 11x14 Portraits of female comics.
2016 - present The Comedy Store, Manchester UK
Arches 3 and 4 Deansgate Locks Whitworth Street West
Manchester M1 5LH
Over 50 11x14 Portraits of UK comics.
2014 - present Cobb's Comedy Club
915 Columbus Ave., SF (415) 800-8484
Over 70 16x20 Portraits- each of which
was created at Cobb's.
2013- present Gotham Comedy Club
208 W. 23rd St., New York
75 new prints in this complete
refresh of the comedian portrait
exhibition
2211 Polk St (at Vallejo)
"Best of" music and comedy
photos. Ongoing exhibition.
2011- present Upright Citizen's Brigade- Los Angeles
Portraits of UCB regulars
2009- present Punch Line Comedy Club - S.F.
60 Comedian Portraits
2006- present Sydney Comedy Store - Australia
25 Comedian Portraits
1998- present The Warfield Theater - San Francisco
16 Musician Portraits
1994- present The Fillmore- San Francisco
Backstage and performance photos.
PAST EXHIBITIONS
2015 Doc's Lab
124 Columbus Ave, San Francisco
Portraits of "Comedy Legends
2014 Craig Fonarow Gallery
537 Columbus Ave, San Francisco
One wall of prints in this photography
gallery in North Beach
2014 O'Reilly's Irish Pub and Restaurant
622 Green St., San Francisco
Wall of photos from OysterFest
20 Year Music Retrospective!
2012 Bolinas Gallery
52 Wharf Rd., Bolinas
Fillmore Photos
2012 Density - San Francisco
¡SATIRISTAS!
2011 Madrone Art Bar- San Francisco
40 Portraits of comedians and satiristas.
2010 Montreal Just for Laughs Festival- Quebec
2010 Upright Citizens Brigade Theater- LA
40 Portraits from ¡SATIRISTAS!
2009 Lush Life Gallery - San Francisco
80 Photos from 15 years at The Fillmore
2005-2009 Vancouver Comedy Festival- Canada
Annual Exhibition of 35 Comedian Portraits
2001-2010 Just for Laughs Festival Montreal, QC
Annual Exhibition of 80 Comedian Portraits
2007-2010 The Improv Hollywood
20 Comedian Portraits
2006 Edinburgh Fringe Festival Scotland
"Beyond Headshots"- 45 Portraits
2004 Spanganga Gallery SF
100 Bay Area Comedians
1999-2013 Gotham Comedy Club - New York City
100 Comedian Portraits
1998 Academy of Art Gallery- San Francisco
MFA Exhibition- Satirists